Review of Rosalia Cottage
Wellswood, Torquay, Devon
CALL US 07789 006767
OR EMAIL US karen@holidaycottages4u.com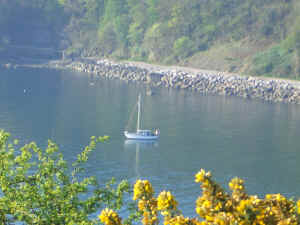 Great little find in Wellswood
We had never been to Torquay before. Wellswood is a great find. It is a little village on the outskirts of Torquay, but close to the beaches. Everything you could need for a perfect holiday is here. There are several restaurants catering offering up a range of international cuisine. There is also a very nice pub within a 2 minutes walk. You can also find a grocery store, delicatessen, newsagents, bakery, cafe, flower shop. In addition to these facilities there are a couple of beaches close by. We visited Anstey's Cove, which is a pebble beach. The tide was in each time we walked down (bear in mind it is a steep walk down and even steeper coming up!). We also walked to Meadfoot Beach where we stopped for a coffee on the beach front. As we had our German shepherd, it was lovely to discover that dogs are allowed on the pebbly bit. But watch out, as we almost got caught by the tide which comes in fast at either end of the beach, leaving a sandy bit in the middle. As the steps are at either end, we almost got stranded. Luckily, it wasn't a windy day and we were able to wade through the water (ankle depth) to get to the steps. We won't be making that mistake again!

We were very happy with the cottage which is a two bedroom Victorian terrace. It certainly was a lot more spacious than it looks from the outside. We were met on arrival by the caretakers Jane and Geoff, who were very welcoming. The cottage was clean and well maintained.
Valerie from Scunthorpe
Check out our cottage Rosalia.